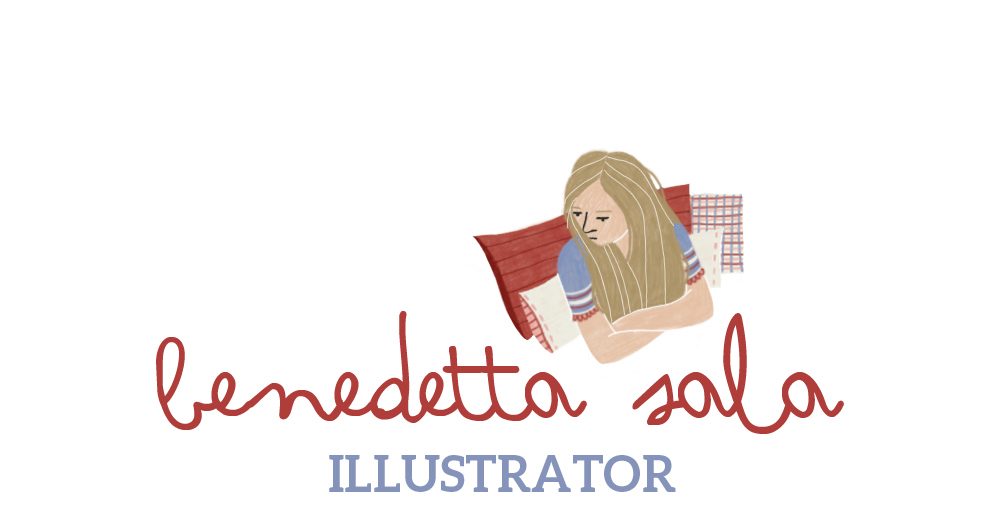 ILLUSTRATION

|

BOOK

|

MAG

|

EVENTS

|

FREEBIE

|

STATIONERY



︎ ︎ ︎ ︎



BENEDETTA SALA

Illustrator & Graphic designer

benedetta.sala@me.com
Ciao, sono Benedetta Sala, sono un'illustratrice/designer che vive in provincia di Como.
Dopo essermi laureata in Design della Comunicazione presso il Politecnico di Milano, ho lavorato in Svizzera come art director.
Nel 2016 ho frequentato il Master di Ars in Fabula in illustrazione editoriale, dove ho imparato a combinare la mia passione per il disegno digitale con l'uso di china, matite e acquerelli.
Amo molto disegnare gli animali, illustrare storie con un taglio ironico e ricette di piatti che non imparerò mai a cucinare.
Hello, I'm Benedetta Sala and I'm a designer and illustrator based in Como.
After graduating in Communication Design from the Polytechnic of Milan, I worked as Art Director in Switzerland.
In 2016, I attended the Ars in fabula Master in editorial illustration where I combined my passion for digital drawing with inks, pencils and watercolors.
I love drawing animals, ironic stories and illustrating recipes of dishes that I will never learn to cook.
Collaboration/Clients
Piemme Edizioni (Mondadori Group), Il Corriere della Sera, Carie Magazine, Racconti crestati, Polkadot Magazine, Mobile Common, Macondo Press, ZOOlibri, Feltrinelli Kids

Published books | Upcoming books
• Ein ZuHAUSe für alle
Carlsen, 2023 - upcoming book
• Cosa cerchi, Palmiro?
Feltrinelli Kids, Collana I bruchi, 2023
• Elefante e gattino
ZOOlibri, 2023
• 집을 바꿔 볼까?
서울 : Edu&Tech(에듀앤테크), 2022
• La casa segreta
Piemme Edizioni, Il battello a Vapore, 2022
• La casa perfetta
ZOOlibri, 2021
• La ragazza della foto
Piemme Edizioni, Il battello a Vapore, 2019

Awards
• Rodari Award 2022 (winner)
• The children spectators - BCBF 2021 (selected)
• Hiii Illustration 2020 International Competition (nomination)
• Mobile commons, 1st Prize (2013)
• Salone satellite 2011, xtremely ordinary design
Exhibited book: '68. L'immaginazione al potere
Selected book: Tre millimetri al giorno by Richard Matheson




Work experience
2017 | 2023
Benedetta Sala
Communication designer

2014 | 2015
LPS Group
Art Director

2012
Rezzonico Design Studio
Tirocinante

Education
2017
Ars in Fabula
Master in Illustrazione per l'Editoria - 110/110 L

2013
Politecnico di Milano
Laurea Magistrale in Design della Comunicazione - 110/110
Tesi "L'editoria digitale sui banchi di scuola"

2010
Politecnico di Milano
Laurea Triennale in Design della Comunicazione 110/110